Czheeva is a nagai and a Raven Syndicate trade guild executive.
Biography
Czheeva is a Tatl's direct superior.
History
Pre-Great Race War
Czheeva sends Tatl on a vital mission to acquire the Headpiece of Thoth from Midgård. [1]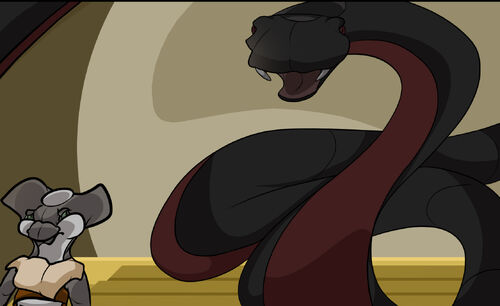 Appearance
Czheeva is a imposingly large nagai, easily towering over Tatl. His scale colouring is a mix wine-red and dark blue, with a shades of gray markings at his head. Unusually for a nagai, he does not possess arms. [2]
Personality & Abilities
Czheeva is a strict, mission-oriented personality. He has little care for the "wants or wills" of his employees, as long as the task is complete and his customers are satisfied. When Czheeva gives Tatl the mission to retrieve the Headpiece of Thoth, he warns him not to return without it, indicating he has little forgiveness for errors. [3]
Relationships
Tatl
Czheeva maintains a stern relationship with Tatl, warning him of the consequences of failure. This goes to the point, that Tatl considers outright selling the Headpiece of Thoth to the nagai High-King Coatl. [4]
Appearances
Aesir Chronicles FATES Vol.4 Tatl
References